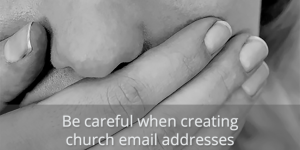 Have you ever been embarrassed by words? No, you did not mean for them to come out they way they did, but what others see and hear may be completely different from what you intended.
Does your church have any email addresses that would make your mother blush or a fifth grade boy giggle uncontrollably? Are your members confused because every staff member has a different email address format?
Brief evolution of email addresses
In the early days, it was common for churches to use either of these email formats:
FirstName@YourChurch.org
This was okay as long as the growing staff did not already have a John Smith and then added a John Anderson. They cannot both have John@YourChurch.org. While it may add a little Bible humor to give them FirstJohn@YourChurch.org and SecondJohn@YourChurch.org, it would be confusing to people sending them emails. Which John is which?
LastName@YourChurch.org
So some churches went to a Lastname@YourChurch.org format. So then John Smith had an addresses of Smith@YourChurch.org. You can see where this is going. What happens if another person is added who happens to have the same last name? Nope…you cannot have two Smith@YourChurch.org.
Then it began to get fun with the FirstInitialLastName@YourChurch.org format. So John Smith had an address of JSmith@YourChurch.org. This seems to have become the trend for churches and other organizations. After all, it can fit on a business card. But it causes issues when Jane Smith joins the team. Or worse yet…
Embarrassing Outcomes
Using the FirstInitialLastName@YourChurch.org format can result in some fun, catchy email addresses.
Steve Perky becomes SPerky@YourChurch.org. (Yes, I've had a lot of fun comments about that one over the years.)
Sam Parker becomes SParker@YourChurch.org.
However….
Cassandra Rappoh becomes crappoh@YourChurch.org
Pat Arty becomes party@YourChurch.org
Andy Leach becomes aleach@YourChurch.org
Gary Rose becomes grose@YourChurch.org
Charles Lutz becomes clutz@YourChurch.org
Scott Hitton becomes…. Hey! Be Careful!
If these don't seem odd or funny to you, say them aloud.
Recommended Format
I highly recommend the following format
FirstName.LastName@YourChurch.church (learn about the new .church domain extension) Note: the part of the address to the right of the @ symbol should match your church's main website address. So emails addresses with this format look like the following:
John.Smith@YourChurch.church
Jane.Smith@YourChurch.church
Cassandra.Rappoh@YourChurch.church
Charles.Lutz@YourChurch.church
Larry.AndersonSr@YourChurch.church
Larry.AndersonJr@YourChurch.church
Benefits of this format
It saves space in your print publications. I know it appears to be longer than other email options, but since the email address includes the whole name of the person, you do not have to write out their name a second time. For example: "For more information contact John.Smith@YourChurch.church or 555-1212." This takes less space than "For more information contact John Smith at 555-1212 or John.Smith@YourChurch.church."
It orients newcomers to staff names. People who are new to your church have more exposure to full staff names and can get oriented more quickly.
It reduces embarrassment. See section above.
It creates consistency/clarity. By knowing the name of a staff member, a church member knows the email address without having to look it up, call the church, or go searching for it.
Conclusion
Standardize your email address format as FirstName.LastName@yourchurch.org.
Original photo courtesy istockphoto.com/ IMAGE1:27